The three shouldn't be mutually exclusive but it seems they've all filled my world lately. I wanted to apologize for not updating my blog in awhile (for the 1.2 people that read it) but due to the
Blogging Without Obligation
oath I took, I'll skip the apologizing, excuses and guilt and just say I'm glad to be back :)
There's been so much going on I don't think I can cover it all...mostly doing lots of
Sewing
- totes, bags and purses! Here are some of my recent projects:
Bandana Totes
These are so fun to make...I love buying bandanas of all colors and making big, colorful totes to use in grocery shopping, going to the lake, anything! They're durable, reversible and very unique.
Here is a
Compact Tote Bag
that I made from a new pattern I was excited to try! Very easy, usable and perfect to roll up and toss in the car. I could use a ton of these!
I wanted to make a
Hello Kitty tote
for my friend Kayla in Maine..so came up with this :) I think it came out super cute, which gives me all kinds of ideas for Hello Kitty totes! I bought the HK fabric at Joanne's and cut out the face pieces and bonded them down with
Crafty-Fuse
.
I made a
Camo Bag
for my niece-in-law, Michelle, who loves camo fabric. Durable, large and great w/ your favorite camo or khaki capris, I'm thinking of making one for myself :) Didn't use a pattern for this one..the lining is blue camo inside.
And of course I've made lots of
Poochie bags
! They're so fun to make, and perfect for my obsession of collecting bright, colorful fabrics.
Which leads me to my favorite thing of all time..
Swapping
!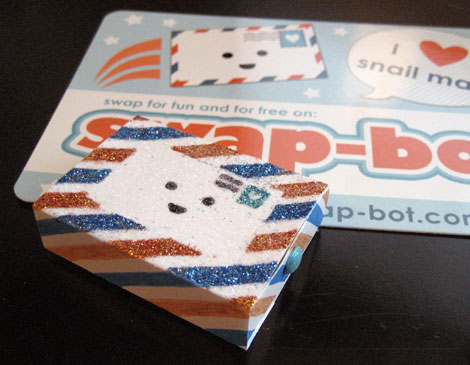 Meet me over at
Swap-bot
, my username is bobogrl, I'd love to swap with ya! I've met so many wonderful people from all over the world, gotten wonderful projects from talented people and been the receiver and giver of many RAKS (random acts of kindness). It's so rewarding making something special for someone "just because"..you wouldn't believe how it brightens their day. Check out my
flickr
for more projects I've used in swaps. The title photo is a wonderful package I received from swapper
LauraAust
, she sent me yards and yards of gorgeous, colorful fabrics to sew with! I'll be making her a special purse from a pattern she sent me, along with a matching wallet. Hope you join and swap with me sometime!
And now for the worst part,
Sickness
..ugh I'll try to keep it short. Some of you may or may not know I'm currently on dialysis as a result of
End Stage Renal Disease
. I had a
catheter
placed in my chest which was used for getting dialysis treatments three days a week. Unfortunately, my catheter became infected and I had a horrible blood infection, causing me to get a fever of 105 and ended up in the hospital for a week. After three days in the ICU, the antibiotics I received started kicking in and I'm slowly on the mend. They removed the catheter and we're using my fistula now, so all is good! I'm not a 100% yet but am slowly getting my mojo back. By the way, I want to encourage everyone to
become an organ donor
, there are so many on the waiting list (like me) for a kidney and everyone has a spare to give! If you've considered donating a kidney, the
Donor Hotline
will answer any and all questions. Donors can give a kidney at no cost to them, all expenses are taken care of! And you get lots of good karma points :)
So that's what I've been up to, I hope you're doing awesome! Come back when you can and drop a line..I'll be keeping the blog updated with more of my crafty creativeness as this summer lets me. It's a good life, and I'm grateful to have it!
~Deb